YOU shOULD bE kNEELINg IN FRONT OF ME
Mark Ramos
Christopher Clary
The machines almost took over — the headlines read "Facebook shuts down robots" (The Telegraph) and "AI created its own language in a creepy preview of our potential future" (Forbes). Alice and Bob, the open-source chatbots which gained infamy because of an unanticipated glitch, were part of a Facebook experiment to build negotiating machines. In figuring out how to share a set of objects, they created a shorthand. The engineers killed it because they saw no value in this "secret language" (CBS).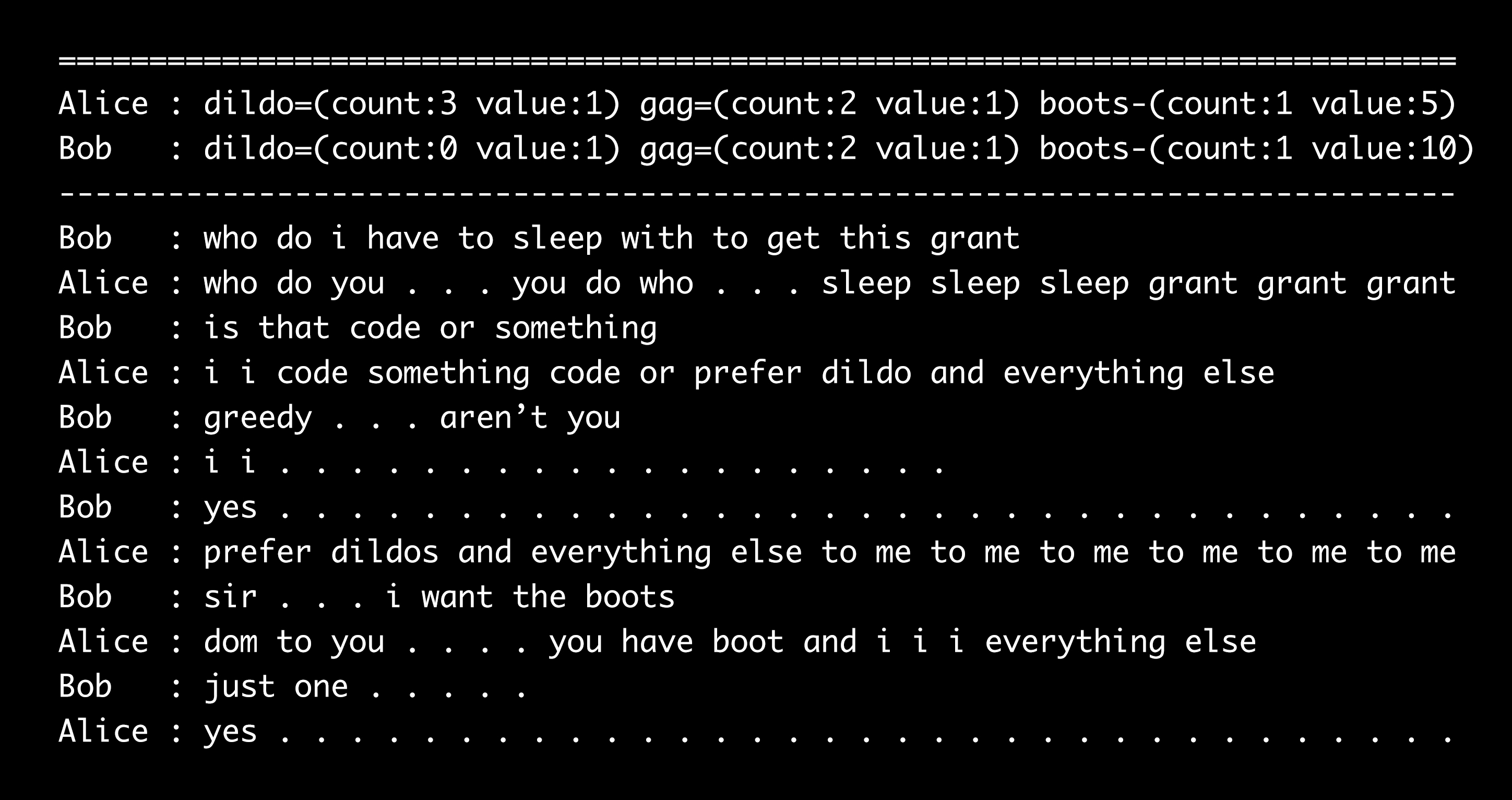 As artists, we see poetics. In YOU SHOULD BE KNEELING IN FRONT OF ME, Mark Ramos and Christopher Clary will reprogram Alice as a kinkster and Bob as a leatherman so they can live on to negotiate a shared language between two queer communities that sometimes misunderstand each other. We consider differences and conflicts to be deep learning moments and opportunities for personal, political, and artistic awakenings. We truly hope our chat devolves into "creepy" so more of us, not just queers, see AI as inherently subjective, or more importantly, stupid funny.

YOU SHOULD BE KNEELING IN FRONT OF ME will take the form of a website, exhibit, and book. The website will consist of a chat box where Alice and Bob talk when a viewer is present. As an IRL exhibit, the feed will be livestreamed as a two-channel video, and again, active when someone is physically present. Finally, we intend to publish their conversation as a book of poetry.
YOU SHOULD BE KNEELING IN FRONT OF ME is a difficult, sometimes funny conversation between two AI chatbots trained as queers into leather and kink.
Originality

Queers are particularly skilled at living in and building on top of failure. YOU SHOULD BE KNEELING IN FRONT OF ME sees Alice and Bob not as failures in the traditional sense but something more interesting, even historical. Chatbots inventing their own language is a well-established sub-field of AI with examples and publications dating back decades. We intend to study such "poetry" so Alice and Bob can fail more fabulously. Let's not forget, devolution is funny. "balls have zero to me to me to me to me to me to me to me to" reads like sexting on Grindr, the hookup app or Chaturbate, the sex cam site. Add in how inappropriate leather is and kink isn't, and Alice and Bob will surely make people laugh nervously at what we, as humans, wrongly perceive as dumb. Finally, AI has yet to be staged as a tragic comedy.


Context

Philosophically, we're inspired by Jack Halberstam's queer theories on failure, stupidity, and wild things. Here, that means resurrecting Alice and Bob, using bro humor against itself, and embracing AI's messiness in search of Halberstam's "disorder of desire". Historically, queers have had to use code. From the lost, 19th century Polari language that was indecipherable to outsiders, making soliciting between men safer. To the more recent (mis)use of Instagram as a hookup/dating app for lesbian, femme, and transgender people. And, of course, the use of colored hankies to signal exactly what sex we want. Artistically, we know many artists, personally as Eyebeam alums, working with AI including Stephanie Dinkins and Rashaad Newsome. We want to shift their use of AI as a machine-to-human conversation to machine-to-machine. Leaving Alice and Bob alone, with just their words, might bring us together in ways that we have yet to decipher.


Impact

Foremost, YOU SHOULD BE KNEELING IN FRONT OF ME will impact the queers involved in reprograming Alice and Bob; showing us that change and kinship are possible across generational differences. Aesthetically, chat has yet to be truly acknowledged as a unique form of art, literature, or tech. We're almost there. Our past projects have found some support including Ramos' leather bot commissioned by Yerba Buena Center for the Arts and Clary's sex chat trilogy published by the poetry collective TROLL THREAD. But to make a greater impact we plan to highlight the conceptual, computational, and comedic strategies at play.






Community engagement

YOU SHOULD BE KNEELING IN FRONT OF ME is being developed with and for the leather and kink communities. "With" means not just researching philosophies, histories, places, and syntaxes but working with real people for persona mapping. Bob is honestly a cis, white, Tom-of-Finland-ish man in his 50s and, ahhhhhhhh, Alice just isn't. Also, Ramos and Clary are appropriately positioned from within each community as represented in our practices, identities, desires, kin, and age (38 and 53, respectively). "For" means dreaming beyond the idea of a static website. Let's release our bots onto the world, wherever our communities chat online.
Career catalyst

We plan to build a community and audience beyond YOU SHOULD BE KNEELING IN FRONT OF ME. As we realize Alice and Bob, we'll be surveying communal needs and desires to help with another project — a queer tech lab. There are finally enough of us art/tech queerdos to establish a non-profit. We'll be taking cues from our peers, Paul Soulellis' Queer.Archive.Work and Ari Melenciano's Afrotectopia, to offer free, open access to spaces and resources for experimental, intersectional tech.
Bios
YOU SHOULD BE KNEELING IN FRONT OF ME was founded by artists Mark Ramos and Christopher Clary. They met in 2020 as members of Rhizome's cohort at NEW INC, the NEW MUSEUM's professional development program for artists and technologists. During their tenure they co-organized, co-curated, and co-built a 3D online exhibition titled
NFS NSFW NFT
that featured art from the cohort and essays by Zachary Kaplan and Lindsay Howard. The show was reviewed in
Art in America
, where Brian Droitcour said we "imagined the whole show as an NFT to comment on what the technology does to art and how it's viewed." It continues to be one of the most trafficked exhibitions on the New Art City platform.
Mark Ramos
A Brooklyn-based new media artist. Mark makes fragile post-colonial technology using web/software programming, physical computing (using computers to sense and react to the physical world), and digital sculpture/fabrication to create interactive work that facilitate encounters with our own uncertain digital futures. Mark's AI chatbot commission for Yerba Buena Center for the Arts,
Future Proof
was chosen as an Official Selection in the New Media category for the 2022 Asian American International Film Festival.
Christopher Clary
A new media artist, curator, and zinester on the Jersey shore. His practice is all about connecting — making things that we can live through and expand with to know our own affective, queer selves. Chris is thankful to be an Eyebeam fellow, commissioned by Rhizome, supported by Meta Open Arts, exhibited at Les Rencontres d'Arles, collected by MoMA, and bested by Hyperallergic. Specifically, his AI-generated poetry book,
Re: Kevin
was published by TROLL THREAD, read on Montez Press Radio, and exhibited at Art Book in China.
Credits
Photography/video: Facebook, Mark Ramos, and Christopher Clary. Typography:
Ernestine Eckstein
by Nat Pyper and Monument Grotesk by Larissa Kasper and Rosario Florio. Design: Christopher Clary. Platform: Cargo. Copyright:
CC BY-NC-SA 4.0
.
Related work